The Forgotten Jesus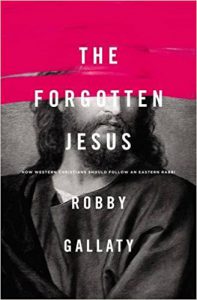 There are so many things in this book that have stuck with me that if I were to cover them all I fear that you wouldn't buy the book and read it for yourself. One of the things that has stuck with me is the differences in the way that the Greeks and the Jews thought and continue to think. This sets up the whole book, in that you are prepared to see things like a Greek (wanting to see something new and/or fresh) through seeing like a Jew (someone who would have been immersed in the Old Testament scriptures from an early age and values repetition and making sure to get things right over learning something new).
There were some things in the book that just blew me away because I'd never considered it before– such as the parallels between Moses coming down with the Ten Commandments and what happened on the Day of Pentecost. There were some that I were more familiar with, but enjoyed reading again– like talking about how a young Hebrew man went about getting a wife.
If your "diet" of the Bible reading and teaching is heavy on the New Testament, this book would open your eyes to just how much of the New Testament is a fulfillment of the Old. Even if you are getting a balanced "diet" of Old and New Testament, you will find that the sections of this book that talk about how a Hebrew child would memorize the complete Torah, or how much these people had Scripture as part of their daily lives to be challenging and convicting. I've found that it has made me want to memorize more Scripture and think through what's going on in the New Testament stories that are very familiar to the believer that has been in church all his life!
I received a pre-release copy of this book in return for a review. The review contents are my own.
(Visited 19 times, 1 visits today)