Code Quality And Sinful Human Nature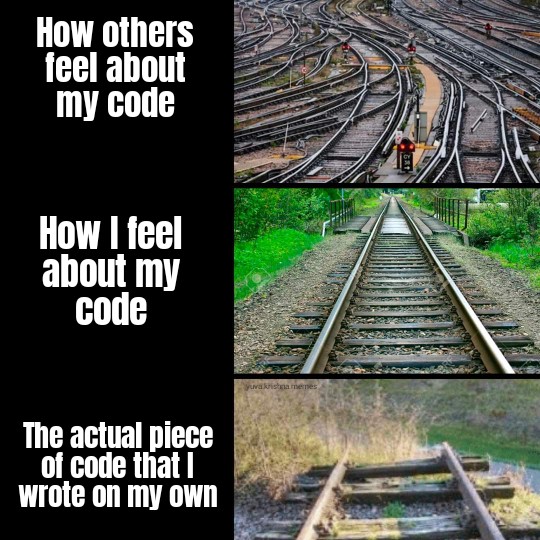 As a software developer with a lot of code under my belt, I can definitely empathize with the image at the right. Nothing is worse than being tasked with working on someone else's code and struggling for a period of time to try to figure out what that person was thinking and why they made the coding choices that they did.
The worst time I've had is with a very advanced piece of software that the dev who left the company actually left notes about all the patterns and design principles you needed to be familiar with in order to figure out what was going on.
The code was pristine, awesome, and fast, but much like gazing at a painting and wondering how the artist did it, I found myself trying my hardest to avoid it.
Much more frequent are the times where you run into duplicated code, bad code, and worst of all… your bad code.
We all tend to have a better feeling about the quality of work we do than what we actually do, which is why most developers, when revisiting their own code, can't believe that they did something the way that they did.
I have been listening to many of Ray Comfort's videos from Living Waters ministries where he is doing street evangelism and working with people to see their need for a Savior. Without acknowledging that sin, we won't acknowledge our need for a Savior.
So after asking if the person considers themselves a good person, Ray will take them through the 10 commandments, asking if they've ever lied, stolen, or looked upon someone to lust after them. Having a baseline for what is sin, he can then talk about the fact that we can't erase those judgments– we are lying, thieves who are are adulterous at heart. The only solution is to turn to Christ, who paid the price for those sins.
It's just like our code– either because we've gotten better or because we were pressed for time– it looks like that last train track. But unlike our sin, we can fix our code. The only way to fix our lives is to turn to Jesus and plead his work on the cross for our salvation. There's no other way.
(Visited 89 times, 1 visits today)