Windows 7 Startup Repair Saves the Day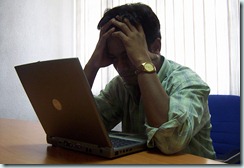 Last night was supposed to be an easy night.  I was going to go downstairs to the big, Quad Core, 64-bit box and put together a simple DotNetNuke module skin for a client that I have.
First, I'm moving some content from some other blogs to bigger blogs in the hopes of getting more traffic and doing less work– imagine that.
So, I started copying my posts over to my Windows Live Writer application when tragedy struck.
I tried to open an image, and the application hung–white screen and all.  And I. Could. Not. Kill. The. Thing.
It would not close.  It would not stop the process through the Task Manager.  It would not die so I could restart he program.
So, eventually, I told the computer to restart through the Start Menu, and told it to "Force Close" the background programs.  Unfortunately, that made the system hang at "Logging Off".  So I manually restarted the machine.
And then the trouble began.
The machine did not restart– never saw the glowing Windows– so it went into Startup Repair mode.
Fun fun.
After half an hour of "Attempting Repair" it asked if I wanted to restore a restore point.  I don't know about you, but I don't particularly relish guessing what is missing.  I'd probably rather have just restored a backup from my Windows  Home Server–because probably not much had changed from the night before (having that option is sweet!).
In any case, I chose no, and the machine restarted and everything was fine.
Fortunately, I got a chance to do some laundry and clean off my desk, but I didn't get to the DNN module.  Oh well, there's always tomorrow.
(Visited 12 times, 1 visits today)