WordPress Calendar For Multiple Blogs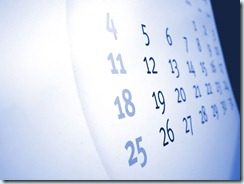 One of the problems with managing and writing for multiple blogs in advance of the current date is that I can never really remember what I have written in advance of today, what needs more written and what I'm good with.
There are some neat plugins for managing a single blog.
For instance, I currently use Future Posts Calendar, which works good for showing which dates are covered on a single blog.  I'm looking at implementing Editorial Calendar which give me more power as far as moving posts around.  But neither of these solve my main problem.  And none of the plugins on the 7 WordPress Calendar Plugins page seemed like it would fit.
So, I've come up with a solution that should work.
I'm going to take the XML-RPC.NET solution and use it to get all the posts from my blogs and then turn around and use Google's calendar API to put it into Google Calendar.
This means that I'll my post schedule readily available on my gTablet or anywhere I want—I'll see every post, when it's been published or will be published, etc.
Eventually, I could see this thing allowing me to move post dates/times around via Google Calendar—if it gets interesting enough.
What do you think of my plan?
(Visited 12 times, 1 visits today)