Created To Be God's Friend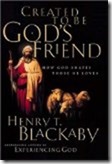 I had done Blackaby's Experiencing God: Knowing and Doing the Will of God Workbook and I have to say that I totally recommend that book.  It's a 12 week workbook that takes you through looking at the world from God's perspective as well as your place in it.
Since I enjoyed that book so much, when my grandmother passed and I saw this book, Created to Be God's Friend, by the same author I snatched it up to give it a read.
Much of what is in this book is covered in his Experiencing God series, though this is written after and uses the experience of writing that workbook as part of his illustration.
This book picks up the study of the life of Abraham, with the goal of applying that life to someone in the current time period.  As Blackaby is very familiar with his own life, he draws a lot of parallels.
What you'll find with this book is that it will challenge you.  It will challenge you to look at the life of Abraham—from where he was when God called him to where he ended up—a man that could be called a friend of God.
And that truly is the point of the book—to help the believer today gain from the life of Abraham what it takes to be faithful to God, to see Him work in the area around you and to join Him in that work.
I think that's the most "radical" premise of both of these books.
You see, most of the time I believe that we have a It's a Wonderful Life mentality of Christianity—where we believe that we must do something or else it'll never get done.  We picture God waiting for us to work, almost begging us to work.
And yet the picture in the Bible is exactly the opposite.  God is always at work, and uses the people that have a relationship with Him (or He grooms to have a relationship with Him) to carry it out.  Always sequential and always at the point where the people are ready to do what He has for them.
I recommend this book to anyone looking to get a grasp on this concept, but the workbook I mentioned earlier would present a really good challenge to your Christian walk.
(Visited 7 times, 1 visits today)