Living In Love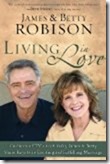 This summer, my wife and I celebrated our tenth wedding anniversary.  It seems hard to believe that it was ten years ago that we were standing in her home church exchanging vows and that the time would fly by this fast!
Ten years and four kids later (fifth on the way!), it seemed like a perfect time to be reading a book on how to make our marriage strong and to live in love, and this book did not disappoint!
The format of this book is interesting, in that both James and Betty have sections that they wrote from their own perspective covering their own marital journey.  To be cute, my wife read Betty's parts and I read James'.  It was neat to see how God worked in their lives, taking them from where they were to where they are today.
There isn't many new ideas when it comes to marriage, just different ways to implemented.  Anyone that's read marriage books will immediately recognize many of the same themes:
Communication between partners is stressed.
There's a chapter on sex that tells each person that it's important.
You're going to be told how your marriage effects your kids, and yet it's the most important relationship in your family unit.
What I found most interesting is where the book deviates from this and the personal illustrations.  To watch the couple deal with James' absence on the road during evangelistic crusades and how Betty reacts to the fact that other women want her husband's attention—that hits home.
Also, this is the first marriage book with a whole section dealing with the fact that there is spiritual warfare at work in marriages, attempting to break them up or weaken a spouse.  There's a reason that Paul states that we wrestle not against flesh and blood alone.
Overall, this is a great book for couples at any stage in life—both to encourage you to continue doing the good work you're doing as well as to help you see what living in love can be.  As they say many times, you won't be able to turn some of these on like a light switch, but by seeing what's possible you can grow that love into something that is truly special.
---
I received a copy of this book for free from WaterBrook Multnomah Publishing Group for this review.  The review is all mine.
(Visited 12 times, 1 visits today)