For Men Only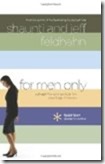 Jeff Feldhahn has gone where no man has dared go before—with his wife as she promoted her wildly successful book For Women Only: What You Need to Know about the Inner Lives of Men
.  While on this trip, Jeff realized that there were also many things that men did not know about the women in their lives—their wives.  And from there he and his wife Shaunti, decided to survey women and write their companion book, For Men Only: A Straightforward Guide to the Inner Lives of Women
.
One has to admire the ambitiousness of this book, what with the number of relationship books on the market and with what this one claims to do—allow men to peer inside the minds of their wives and unlock the mystery of why women often act in irrational ways and how to live with your wife in such a way that you both are complete.
For the most part, I found what Jeff had to say very interesting, and I will detail some specific things I've learned in future posts.  One thing to keep in mind with survey based books is that the author will tend to make conclusions based on the majority response—but that doesn't always mean that your wife will react the way that these women did.  The odds are high, but I found a couple times where I am pretty confident that my wife would be outside the norm.
That being said, understanding basic needs and feelings is helpful, and the most eye-opening piece of information is that women often test without giving away the answer because having you get the right answer without them telling you is a sign of your love.  Very interesting indeed.
The conversational tone of the book is very easy to read, and it's relatively short considering the information provided.  My copy came with a handy reference guide at the beginning that reminds you of the six key concepts—what they are and how you should respond to them.
I would highly recommend this book to any married man, or man planning on getting married, and I'm planning on getting this book for some friends in my life!  Seriously, ladies—get it for your husband, and guys, don't be afraid of this book.
---
I received a copy of this book for free from WaterBrook Multnomah Publishing Group for this review.  The review is all mine.
(Visited 13 times, 1 visits today)