Ten Stupid Things That Keep Churches From Growing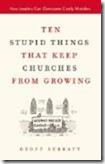 As someone that is involved in the leadership of a local church, I find that I often have to think about what we're doing as a church—why is it that some that come in the door never return, or why is it that some people leave in the first place.
That's one of the reasons that I picked up Ten Stupid Things That Keep Churches from Growing: How Leaders Can Overcome Costly Mistakes
.  I was hoping to gain some insight into what makes churches grow or not grow.
The book is an entertaining read.  Surratt does a good job of presenting his information in an entertaining way, and fills it full of personal illustrations so that you know that it's more than just words—he's actually lived what he's talking about.
Each section comes with an interview from someone in the ministry that he believes has been successful.
There is a lot of emphasis in the early chapters that numbers is not the primary metric someone should be concerned about when it comes to church size.  However, most of the other chapters seem to be positioned all for "how many people can we attract?"
For instance, he spends a whole chapter talking about how you should avoid presenting a "second rate worship experience" and how he decided that rather than having the local pianist and music leader run the music time, he switched to having background music play.  This way, he figured fewer people would be turned off by the music and head out the door.
The problem is that the worship service, to me, is a time where people bring their best to the Lord—it's His service, and it's not supposed to be entertainment for the people who come.  So, should you tell the lady who has been playing faithfully that she shouldn't play any more?
It is in this way, and with a few other points, that he tends to focus more on the external than the internal.  Don't get me wrong—making sure that people are there when they should be, that they are growing together, that they want to be there—all important things.  Just not as important as the "inner man."
So, overall, it's a worth a read for anyone wishing to make their church look better, just remember to understand that church is more than just an entertainment time.  It's a time to bring our best before the King of Kings.
(Visited 30 times, 1 visits today)