How We Love Our Kids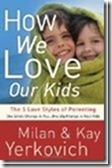 I'm always open to reading books about how I can become a better parent. Shocking, I know. I mean, as a teenager we all pretty much believe that we have it all figured out, and that we have all the answers.
The arrival of our fifth bundle of joy this past February made me realize that there's always something that I can learn, and How We Love Our Kids: The Five Love Styles of Parenting
was a book that I was interested in because of the Christian authors and the fact that I believe that we can always improve how we show our love to our kids.
The book starts out with a set of parenting styles, believing that the key to understanding how to love our kids is by understanding how we were loved as a child. One of the best things I gleaned from the book is that it is my job as a parent to not only identify who my child is and what his triggers are, but to help them identify them and how to cope with them. This must start with an honest evaluation of yourself.
The downside of this book is that, I believe, it spends way too much time analyzing things from a psychological perspective and not enough time dealing with people from a Biblical perspective. Let me try to get more specific…
There are many times where the authors will go into complete detail about how someone could become a vacillator, controller, avoider, pleaser, or victim parent and they pin all of this on how that person's parents raised them. The solution to the problem is not to look to Christ, but to seek help in group counseling (which, they state, can be through a church group). Their solutions to many of the problems is group counseling.
Another problem I've had with the book is that in some places it is implied that the appropriate way to show love to a child is to let them make decisions. Now, to an extent this may be a valid idea, but this can also get out of hand because there is a time where the parent must make the decision and the child must obey the decision. I've found that when you continually let kids make a lot of decisions, they tend to believe that they have options even when they do not. Things have to be age appropriate.
On the whole, I'd recommend this book, because it provides a good deal of introspection. It encourages you, as a parent, to look at your parenting styles, and to read from your kids how they are reacting to them. As the book proclaims "more is caught than taught." However, I would have you keep in mind that though this book pays lip service to Christianity (until chapter 22 and 24) and is much more slanted toward psychology.
---
I received a copy of this book for free from WaterBrook Multnomah Publishing Group for this review. The review is all mine.
(Visited 9 times, 1 visits today)