Illusion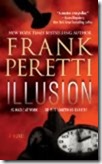 I have always liked reading books from Frank Peretti, and this book is no different.  Illusion drops you right in the middle of the story of two magicians, who are married and on the verge of retiring when tragedy strikes.  The husband believes the wife has died, but something much more complicated has happened, and you never learn the details until the very end.
In fact, I spent most of this book wondering if we'd ever find out!  Peretti is good at teasing you with pieces of the story, and as you, the reader, know who the characters are but the characters themselves do not, you find yourself rooting for them to figure out what's going on, and as they get closer the anticipation builds!
The short chapters build upon each other, and make it easy to bookmark—if you can put it down.  I found that I was sneaking time at every opportunity to speed through another chapter because I just had to find what happened next.
The two main characters are very believable, and walking along with Mandy (the wife) as she tries to figure out just where she is and how she got there, you wish that you could reach into the story and let her know what you know about who she is and what has happened.  Like most of the best fiction, you find yourself a part of the story, as it captures your thoughts and emotions.
If you're looking for a book like some of his others like Piercing the Darkness
or Prophet
, this isn't like those.  Whereas the couple are Christian and the story is rooted in a belief in God, it's much more about the couple and marriage and the power of love overcoming the sci-fi aspects than it is about fighting against Satan's host or a societal evil.
I cannot recommend this book enough, and I'm sure you'll enjoy it!
(Visited 9 times, 1 visits today)