Living As a Christian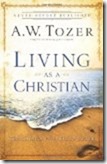 One of the things that I like most about A.W. Tozer is that while reading his writings he makes me want to get closer to God.  You can tell this man had a relationship with God, and even though, after reading as many of his works as I have and seeing the themes, there are still depths to be discovered anew with him.
This book is billed as "Never Before Published" and it reads like a sermon series on the book of First Peter.  One of the chapter headings heads up the feel of the whole book when it talks about how the Christian is a stranger in a strange land.  Many of the passages focus on trying to get the reader to come to grips with and internalize the idea that he is not of this world, that this world does not determine his worth, and that this world has no power over us and cannot harm us because we are not of it.
The Christian, Tozer says, believes what he cannot see, and has hope for the future.  If we could get ahold of this truth, if we could internalize it such that it made a difference in our lives, the power that could be had by us would be amazing.
(Visited 38 times, 1 visits today)