Choosing a Template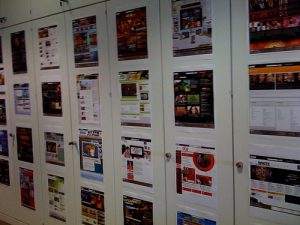 So you have set up your website and have put up an under-construction banner… what next?
Now you have to decide how your site will look!
There are many different places that you can choose a template from, and more modern templates allow you to choose different layouts and add-on packs in order to get just the look that you want.
You can also may for packs of templates, or more advanced templates that come bundled with extra functionality– many can turn your blog into bulletin boards, Facebook-like sites, or directories. It all depends on your specific desires.
If you're looking to make a personal blog, I'd suggest that you find something that lets you configure a left-hand sidebar– because these will probably also let you do other side bars as well! The left-hand sidebar lets you get an ad-block in the top left as well, which is a good place for ads, should you decide to go there.
If you can find a template that fits your theme with little customization, you're in good shape. If you're going more generic, make sure you have the logo or images that you want to use to make it yours. In this case make sure to try demo templates before you settle on one.
Make sure that you find one that is uniquely you, and have fun!
(Visited 3 times, 1 visits today)